Brasil's Foreign Minister Araujo paid to sell fairy tales at the Heritage Foundation.
SELVA-Vida Sin Fronteras'
AMAZON PINK DOLPHIN
12/09/2019
*
**
***
*
Brazil is 'not the culprit' for the Amazon fires, says country's foreign minister
By Jessie Yeung, CNN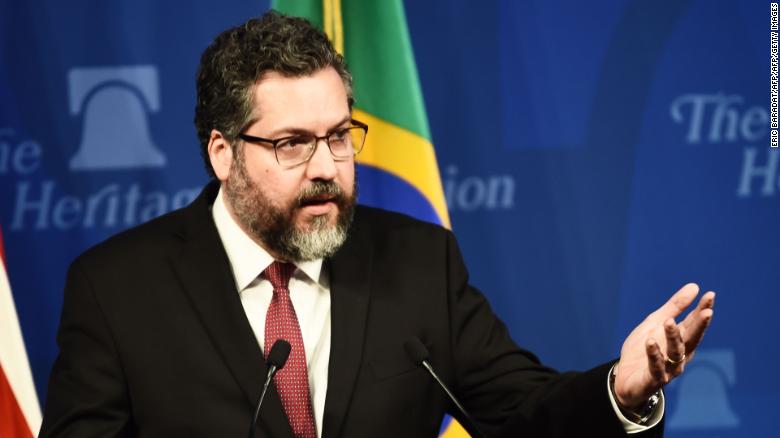 Brazilian Foreign Minister Ernesto Araujo speaking at the Heritage Foundation on September 11, 2019, in Washington, D.C.
(CNN)Brazil's foreign minister addressed the Amazon fires and climate change on Wednesday — but not in the way you might expect.In a speech at the Heritage Foundation in Washington, DC, Minister of Foreign Affairs Ernesto Araujo denied that his country was responsible for the devastation of the rainforest, and accused other countries and activists of trying to "invade Brazil" under the guise of climate change action.
"It doesn't seem like a climate catastrophe to me, at least,"
"But from the debate that is going on, it would seem that the world is ending."He acknowledged that climate change was real and was scientifically observable, but questioned whether it was a manmade phenomenon, claiming computer models were largely wrong and "overestimated the increasing temperature."
"Is this change catastrophic to the point of requiring the worst sacrifices, as it's said nowadays? It doesn't seem to be so," he said, citing "medium confidence" in a 2018 report by the United Nations' Intergovernmental Panel on Climate Change (IPCC).Planet has only until 2030 to stem catastrophic climate change, experts warnThe IPCC report, which involved three years of research from leading scientists worldwide, warned governments to take "rapid, far-reaching and unprecedented changes in all aspects of society" to avoid a climate disaster.
Araujo's speech is all the more striking as the Amazon rainforest continues to burn.
Climate experts say the fires, which spiked this summer, were likely caused by deforestation and deliberate burning of the land — which could in turn release devastating amounts of carbon into the atmosphere and accelerate climate change.
The Amazon is also a huge hydrological engine that helps regulate the world's climate, meaning its destruction could destabilize the climate and cause more severe temperatures.Araujo denied Brazilian accountability, despite climate activists pointing to loosened environmental regulations and more reckless slash-and-burn farming practices under the presidency of Jair Bolsonaro.
"Brazil is not burning the forest … Brazil is not the culprit," he said. He also dismissed climate crisis warnings as alarmist attempts to shut down debate, and accused climate action proponents of trying to "impose policies and restrictions that run counter to fundamental liberties.
"Many people have drawn comparisons between Brazil President Bolsonaro with US President Donald Trump, both of whom climate activists have criticized for their environmental policies. Araujo made the parallel as well, claiming both leaders were "fighting the system" of globalism, and that other countries were "trying to reduce us" under the name of climate action.
The effects of climate change and deforestation have been highlighted in recent weeks as forests and farmland around the world burn. Close to 2.5 million hectares (6.1 million acres) of the Amazon have now been burned, according to Brazil's National Institute for Space Research.And it's not just the Amazon — like in Brazil, Indonesian farmers and plantation owners are also burning land for agriculture, and have destroyed 930,000 hectares (2.3 million acres) of land.
Elsewhere in Bolivia, ongoing fires have ravaged more than 1.7 million hectares (4.2 million acres) of land, much of it protected natural areas and forests.
EDITORIAL COMMITTEE:
Mariana Almeida
Arno Ambrosius
David Dunham
Gustavo López Ospina
Gertjan Storm
Editor: Pieter Jan Brouwer
"Amazon Pink Dolphin" is the official blog of SELVA-Vida Sin Fronteras. The intention of the blog is to generate debate on environmental issues; the Amazon Rain forest in particular. Contributions and support are done on a voluntary basis and do not imply institutional affiliation. Similarly opinions expressed in this blog do not necessarily represent the official position of SVSF.
All Title photographs of SELVA-Vida sin Fronteras' Amazon Pink Dolphin are the creation of Kevin Schafer.