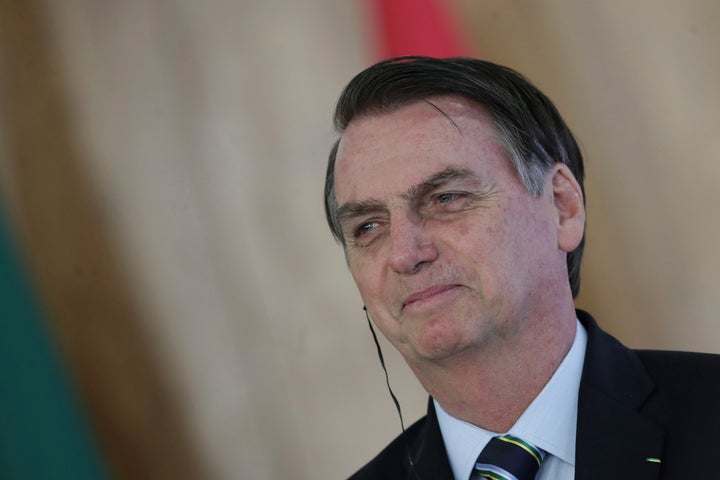 TRUMP INTERNATIONAL HOTEL, Washington ― A little after 8 p.m. Saturday night, Olavo de Carvalho emerged from the bowels of President Donald Trump's D.C. hotel to speak to reporters. The author and polemicist was wearing the sort of tweed suit fancied by those who regard themselves as philosophers.
Carvalho, who is the sort of guy who quotes Plato to reporters, was at the Trump International as the guest of honor at an event organized by former Trump adviser Steve Bannon, another supposed master of the classics, which was meant to act as a curtain-raiser for far-right Brazilian President Jair Bolsonaro's first official visit to the United States.
Bannon and Carvalho have a lot in common. Carvalho, whom Americas Quarterly dubbed the "guru" behind Bolsonaro's rise, calls himself an "anti-globalist." He writes and rants against "cultural Marxism" and climate change, immigrants and Islam; he has said that the United Nations controls all governments around the world and that Pepsi sweetens its sodas with aborted fetuses. His influence on Brazil's president has earned him the moniker "Bolsonaro's Bannon," thanks to the new leader's repeated remarks that Carvalho inspired his own (admittedly less academic) racism, sexism, homophobia and general hysteria.
Bolsonaro wasn't even in Washington on Saturday night― he wouldn't arrive until Sunday afternoon. But Carvalho and Bolsonaro's son Eduardo were, which meant the Bolsonaro visit was effectively underway.
That the visit kicked off at an anti-globalist soiree that attracted such luminaries as right-wing former Trump aide Sebastian Gorka baffled officials in both the U.S. and Brazilian governments, according to the Brazilian newspaper Folha de Sao Paulo. The White House, the paper wrote, can't understand Bolsonaro's obsession with figures like Bannon and Carvalho.
In fact, the event merely served as further evidence that inside Bolsonaro's tenuous and already splintered governing coalition ― composed of military men, neoliberal economists, evangelicals and Carvalho acolytes ― the anti-globalist wing is attempting to exert more power and influence over the president than anyone else.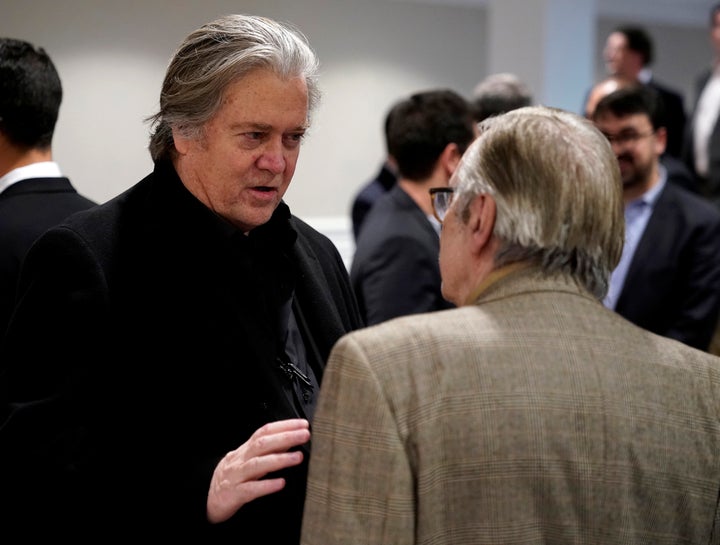 But Carvalho, who has lived in the United States since 2005, doesn't think the president is heeding people like him quite enough. Bolsonaro, he told reporters, needs to "stop listening to bad advice and do what he needs to do."
In a brief chat with journalists after the hotel gathering, which included a screening of an 80-minute film about him, the man who once proclaimed that "the person [Bolsonaro] listens to most is me" tried to distance himself from the Brazilian leader, saying that he has spoken to Bolsonaro only four times.
He claimed that everyone in the press and the Brazilian government who doesn't hew to his anti-globalist philosophy is driven by a "coup mentality" and a desire to bring down Bolsonaro. And he warned that on its current course, the two-month-old Bolsonaro presidency may not last six more.
"I'm unable to predict [how long he will last], but if everything stays the way it is, it's already bad," Carvalho told reporters. "It doesn't have to change anything to get worse, just to continue the way it is. Six months more and it's over."
Bolsonaro's first 60 days in office have indeed been tumultuous. He has faced corruption allegations against his party and his son Flavio, a senator, and has been accused of unseemly (if not definitive) links to one of the former police officers arrested last week on charges of murdering Marielle Franco, the black, queer Rio de Janeiro councilwoman who was assassinated last March. Bolsonaro's distracted and impulsive governing style has so far accomplished little beyond a few (yet still dangerous) morsels of policy that he's tossed to his base. He seems to prefer bizarre Twitter rants against journalists and golden showers at Carnival to the actual work of governing.
But to Carvalho, none of this is Bolsonaro's fault. Instead, the blame lies with the overzealous efforts of the media and its reporters (all of whom are "drug addicts," he claimed Saturday) and a cadre of "traitors" surrounding Bolsonaro ― in particular, retired Gen. Antonio Hamilton Mourão, the vice president who has publicly contradicted Bolsonaro on multiple occasions, and the more than 100 military officers whom Bolsonaro has put in his government. The soldiers, Carvalho said, are waiting to restore the sort of military dictatorship that ruled Brazil from 1964 to 1985, and the media is only helping.
"This is a coup d'etat, haven't you guys noticed it?" he said. "This is a coup d'etat."