Tereza Cristina Dias, Brasil's Witch of Poison, attacks UN Goodwill Ambassador Gisele Bundchen
SELVA-Vida Sin Fronteras
"AMAZON PINK DOLPHIN"
21/01/2019
Gisele Bundchen planting trees: "
Sometimes there is nothing to say, you just have to feel it. ❤️"
If in the past, Tom Brady may have been associated with Agent Orange in the White House, nevertheless Gisele Bundchen is miles apart from the Tropical Trump in Brasil.
In an interview earlier this week, Dias was asked about the "PR problems" that have arisen from Bündchen's criticism of government attempts to roll back environmental protections, relating to the deforestation of the Amazon rainforest.
"It's absurd what they do today with the image of Brazil," said Dias. "For some reason they go out and paint a picture of Brazil and its industries that is not true.
Sorry, Gisele Bündchen. You should be an ambassador and say that your country conserves, that your country is on the global vanguard of conservation, and not go around criticizing Brazil without knowing the facts."
What are the facts, then?
At the end of last year, Brazil released its worst annual deforestation figures in a decade. Between August 2017 and July 2018, 7,900sq kms were deforested, according to preliminary figures from the environment ministry based on satellite monitoring – a 13.7% rise on the previous year and the biggest area of forest cleared since 2008.
The area is equivalent to 987,000 football pitches.
Shortly after, Jair Bolsonaro became president of Brazil. If you're not familiar with him, he's basically environmentalists' enemy no. 1. Upon taking office, he issue an executive order which transferred the regulation and creation of new indigenous reserves to the agriculture ministry, controlled by the powerful agribusiness lobby.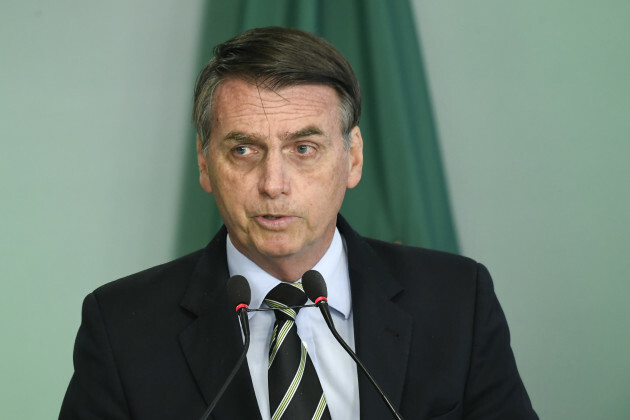 The Tropical Trump Bolsonaro Source: SIPA USA/PA Images
Tl;DR – He made a call which indigenous leaders said threatened their reserves and which would increase deforestation which, as previously noted, is already at a high for the decade.
Where does Gisele come into this?
The former Victoria's Secret model has been very vocal about protecting the Amazon rainforest and the indigenous reserves.
"I started paying attention to what was happening with the environment when I had a visit to the Xingu area of the Amazon in 2003," she said in a previous interview.
I spent a week with an Indian tribe and everyone was complaining they were getting sick because the waters were polluted.
All these pesticides were going into the rivers because there were no trees to protect the rivers. The fish were sick. The water was polluted. I was like, 'Who is doing something about this?'"
In 2017, Bündchen spoke out against proposed legislation to open 600,000 hectares (1.5m acres) of Amazon rainforest for development on Twitter, prompting ex-president Michel Temer to veto the bill.
Within her role as UN Goodwill Ambassador, she's also worked on clean water and anti-deforestation initiatives which resulted in her being awarded a Global Environmental Citizen award from the Harvard School of Medicine.
Before Bolsonaro's election, she was very vocal in criticising his plans to fuse the environment and agriculture ministries (which he later dropped.)
So, it would be safe to assume that she does know what she's talking about.
What did she say in response to the call out?
Needless to say, she didn't take kindly to being accused of "slacktivism". The model wrote a letter addressed to the minister, saying:
An immeasurable heritage threatened by illegal deforestation and the squatting of public lands. These, yes, are the 'bad Brazilians'."
In a tweet, she said: "Since 2006 I have been supporting projects and getting involved in socio-environmental causes".
Rather embarrassingly for Diaz, the war of words comes as Bundchen is to be honoured for her environmental activism at the UCLA Institute of the Environment & Sustainability's annual Hollywood for Science Gala. Awks.
Call-out culture is making it easier than ever to hold your faves accountable, and rightly so. With that said, it's important that we don't underestimate celebrities when it comes to causes close to their heart, just because they might be supermodels.
Source: The Daily Edge
EDITORIAL COMMITTEE:
Arno Ambrosius
Mariana Almeida
David Dunham
Gustavo López Ospina
Gertjan Storm
Editor: Pieter Jan Brouwer
"Amazon Pink Dolphin" is the official blog of SELVA-Vida Sin Fronteras. The intention of the blog is to generate debate on environmental issues; the Amazon Rain forest in particular. Contributions and support are done on a voluntary basis and do not imply institutional affiliation.  Similarly opinions expressed in this blog do not necessarily represent the official position of SVSF.
All Title photographs of the Amazon Pink fresh water Dolphin are the creation of Kevin Schafer.